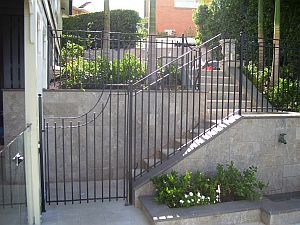 Pool fence traditionally made with hand punched rails
Pool Fence
Indicating the joining detail as the bar swells when it is hot punched.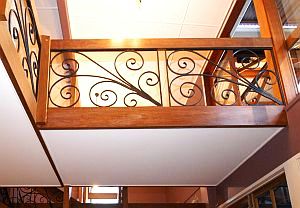 Custom designed Balustrades to order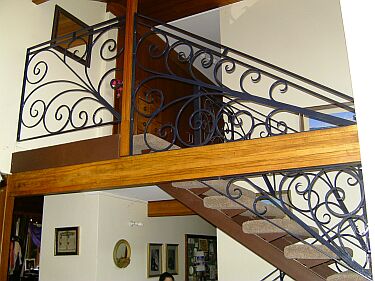 Balustrade
hand forged scroll balustrade fitted to existing stair.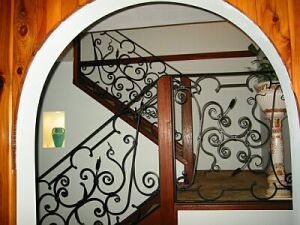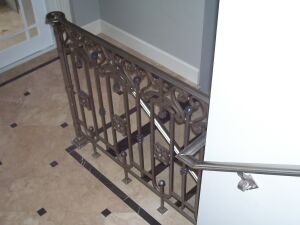 Traditional balustrade
Nickel plated.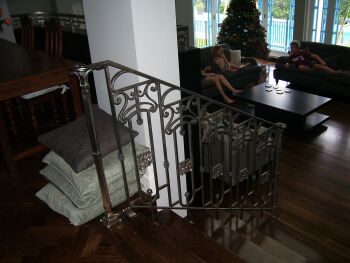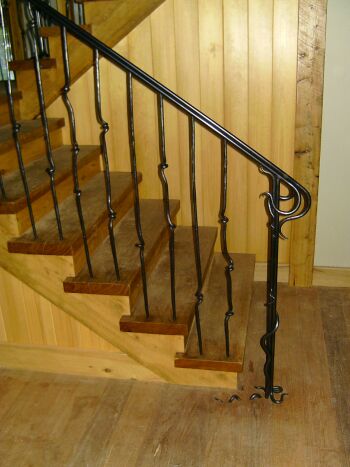 Organic Balustrade
Forged and textured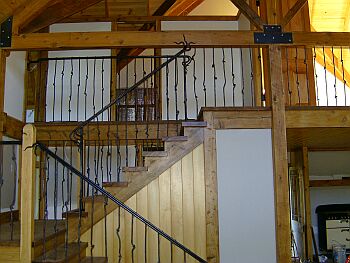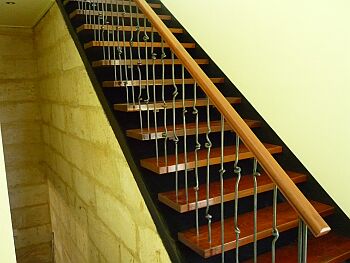 Organic Stair Rail
Hand polished knotted banisters and organic wrapped newel post.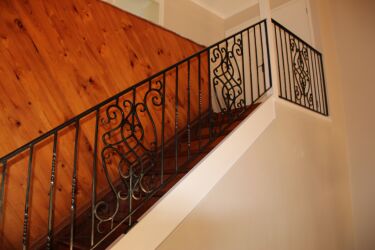 Balustrade
Hand-forged with jogged joints and traditional riveting. Hot twists and hand polished.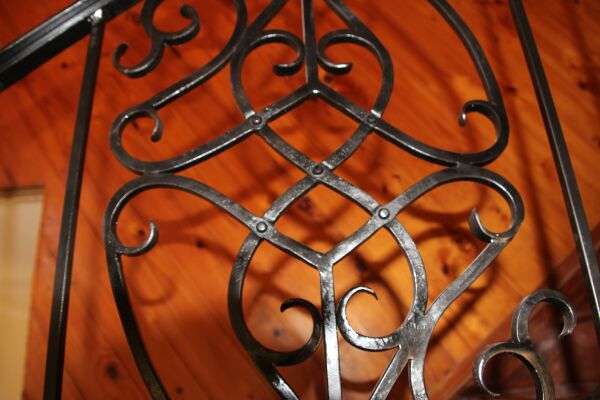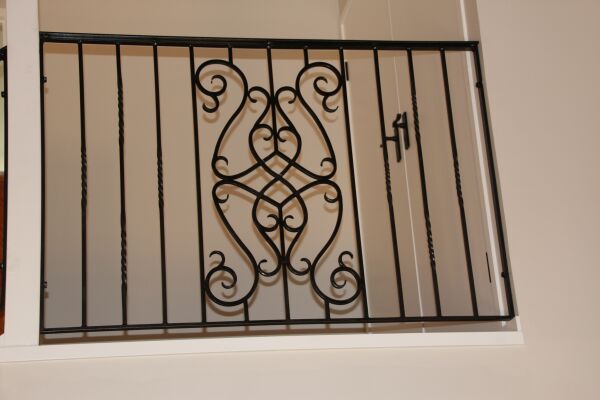 Stair Balustrade
Forged 12mm steel, powder coated black.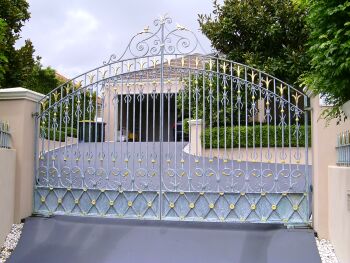 Hand forged and fabricated Double driveway gates
Hot punched all components handmade. Hand painted and gilded with 24 carat gold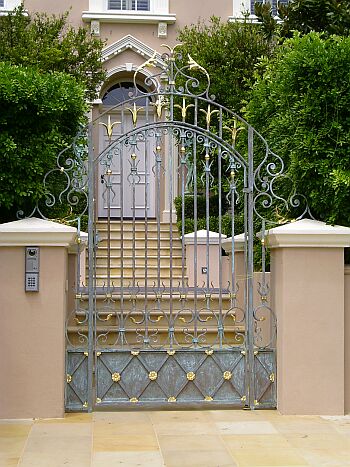 Custom forged gate for private residence
Single pedestrian gate with overthrow. Forged "C" scrolls with split and leaf ends, hot punched top bar with forge welded fleur-de-lis and acanthus leaves.
Hand painted and gilded with 24 carat gold.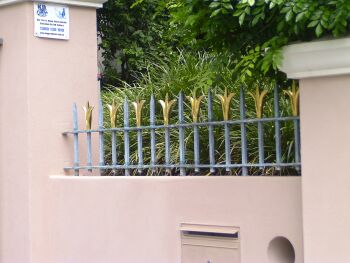 Fencing
Hand forged elements and hot punched rails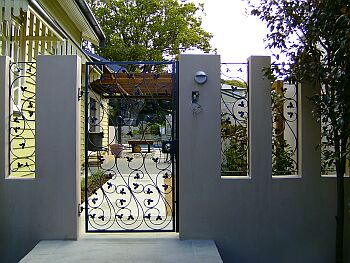 Gate and infill panels
Private residence
Entrance Gates
Classic style front entrance gates for heritage listed private residence. Constructed from 16mm steel hand forged snub end scrolls, forged back style, hot punched and pinned joinery.
Hand forged hinges drop bolts and repose acanthus leaves.
Zink coated painted and hand polished finish with acrylic coating.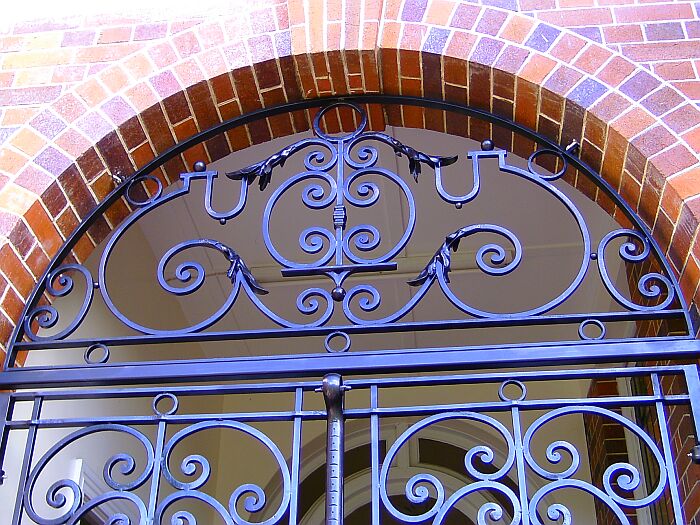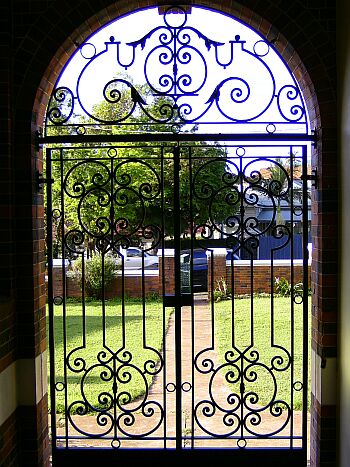 Back detail of above gates.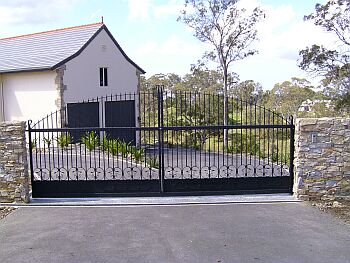 Sliding Gate
6.7 meter x 2.8 meter hand-forged gate .Uprights forged from 50 x 50mm solid steel forge welded split leaf scrolls, hot punched top and bottom rail. hand forged rosettes bottom of gate. bars twisted opposite each side weighs 500kg.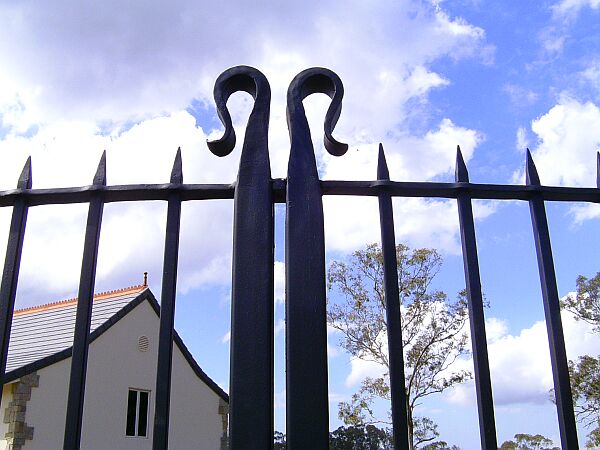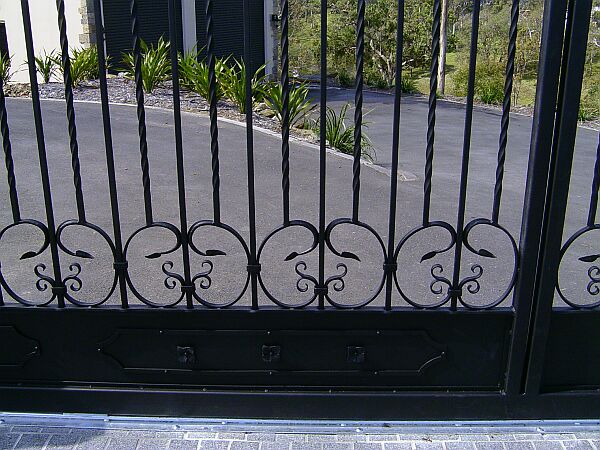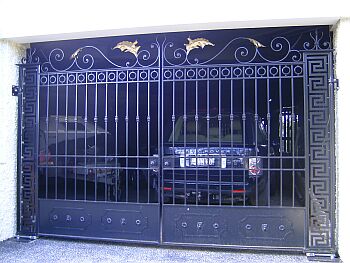 Ornate garage door gates.
Constructed from 16mm uprights with greek key on sides. Snub end scrolls on top with gold acanthus and water leaves.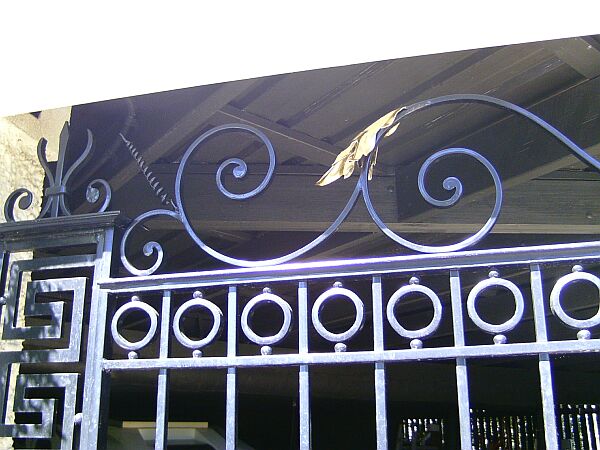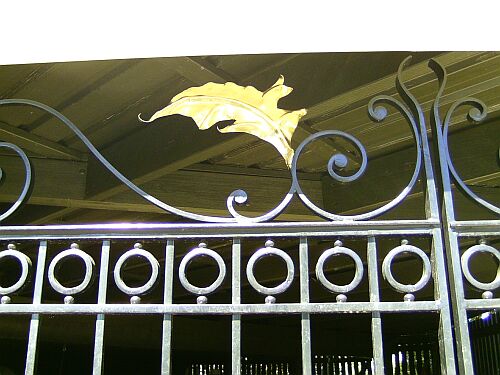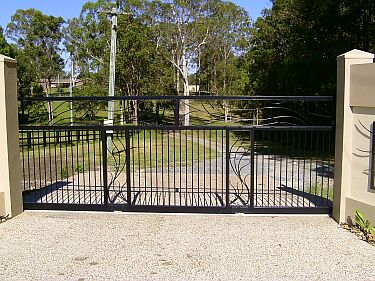 Sliding gate
Organic vines top and middle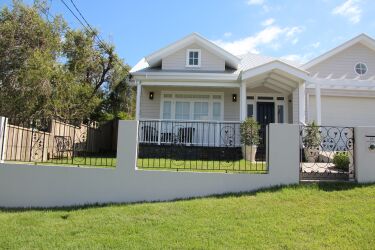 Front of house ironwork
Front fence and gate.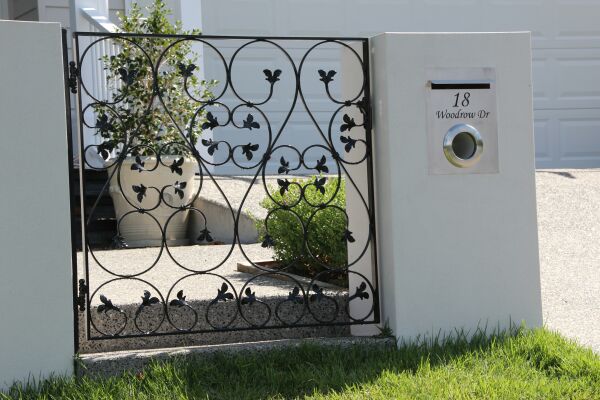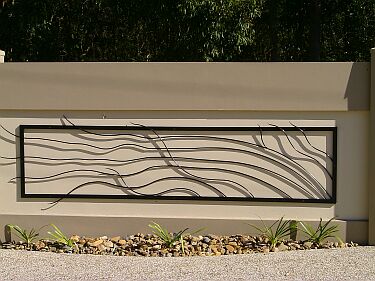 Side panels
Side panels to suit above gate entrance. Both sides.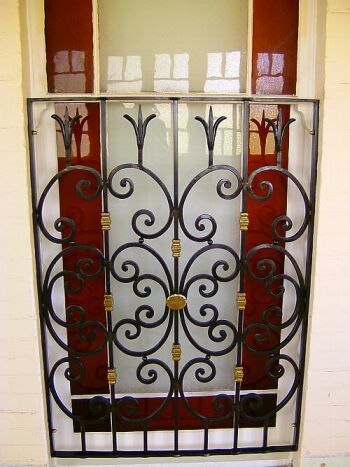 Security Grill
For private heritage listed property. All hand forged from 16mm steel. Scroll work has hand forged snub ends, forge welded fleur-de-lys.
frame hot punched with foundry cast and polished brass bushes and inlay. Scrolls joined with pinned balls.
Hand polished traditional finish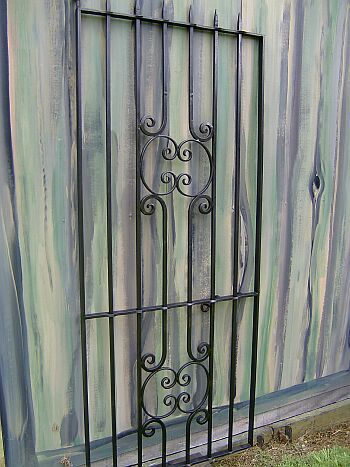 Security door
Hot punched and forged points with hand formed scrolls.
16mm pickets, handmade locks and hinges.
Metal polished.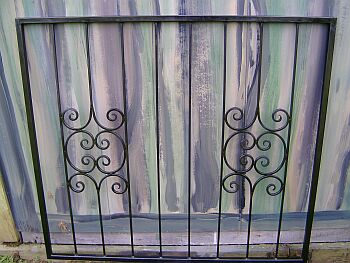 Security grills to match above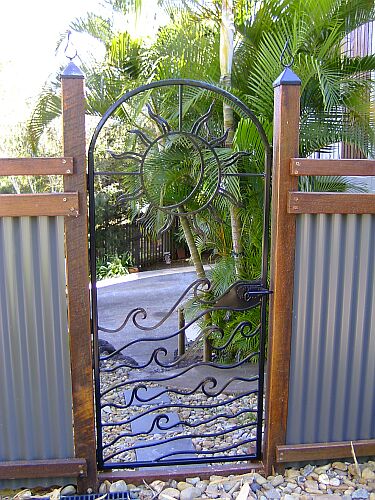 Garden Gate
Sun Moon and Ocean, create a natural feel. With post caps representing light.
Any theme can be created to individualize your property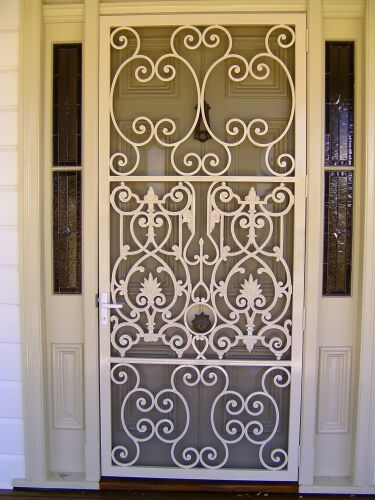 Security Door
Ironwork designed around cast iron lace panels used on house. Fitted with deadlock and magnetic insect screen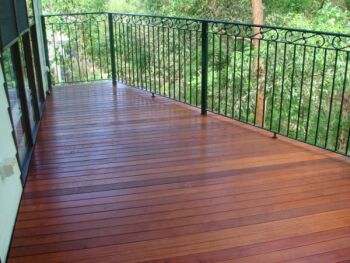 Balustrade
Hand forged S scrolls collared, fitted profiled handrail with reversed twisted banisters. Zinc and powder coated.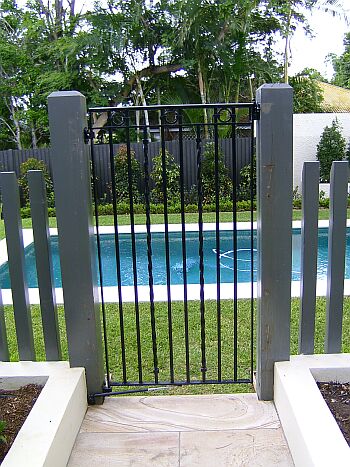 Pool Gate
Heavy pool gate 20mm square uprights with reverse twist and hand forged gate latch.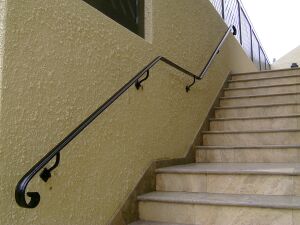 Handrail
Forged profiled handrail with snub end scroll wall brackets. Galvanized and powder coated.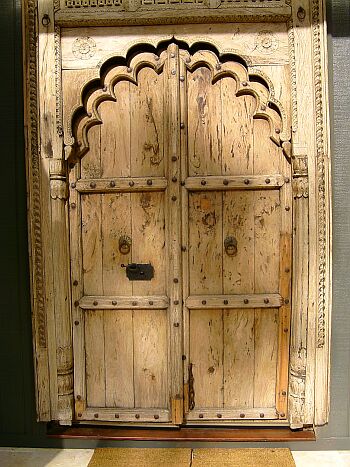 Dead lock Bolt
Hand forged slide bolt with keyed dead lock for large door.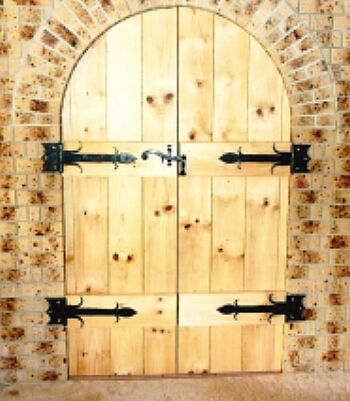 Door Furniture
Hand forged hinges handles and thumb latch designed for custom made heave timber door.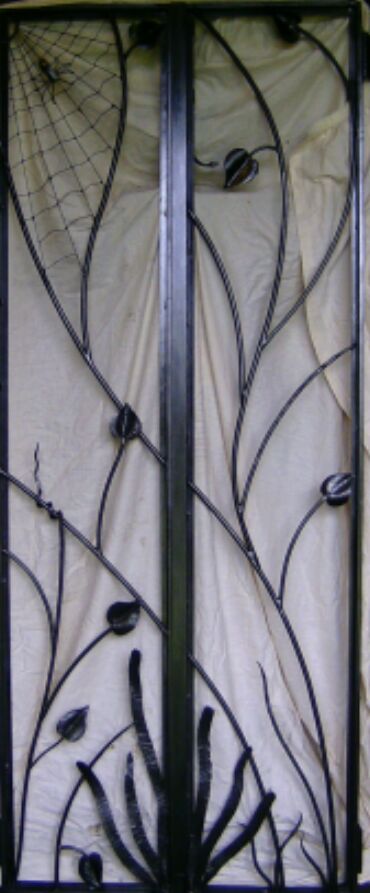 Security Doors
Doors fitted with magnetic fly screen to provide protection from insects as well as unwanted entry.
Designed to any theme or application for a different security door option.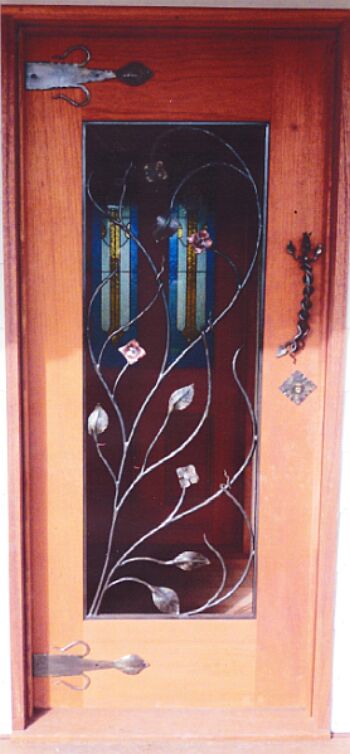 Security door insert
Organic style hand forged iron and copper for timber security door.
Door hardware to suit.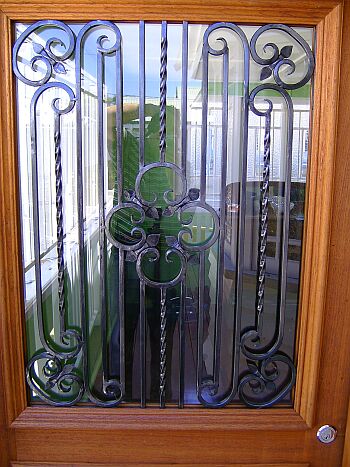 Door insert panel
Designed so lock was unable to be opened when glass was open.
Quaterfoil and scrolls.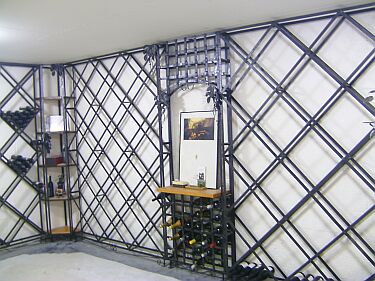 Wine cellar
Wine cellar. each Diamond takes 20 bottles of wine. All frame hammer textured with organic grape vine motif top left hand corner.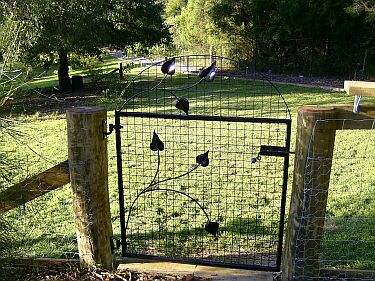 Garden gate
hand forged leaves and leaf draw bolt.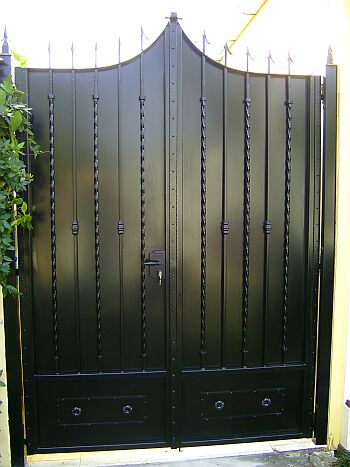 Side privacy gates
Gothic style gates with hand forged finials, mirror twisted bars .collared and hand forged gap plate. Finish Zinc and powder coated.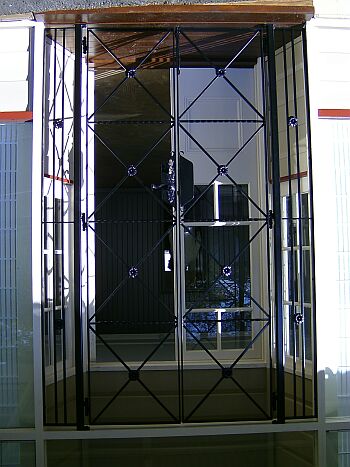 Security gates
Fabricated double gates and side panels with twisted bars and rosets.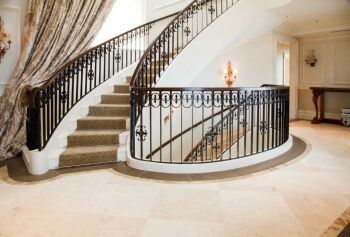 Spiral Balustrade
Three story penthouse balustrade hand forged detail.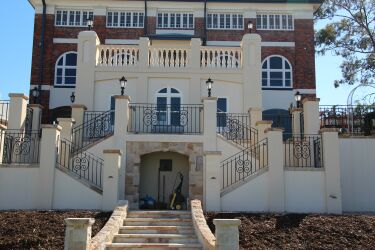 Heritage house
Complete house hand forged iron. 70 meters hotpunched iron balustrade with snub end scrolls. Gates, Infill panels, stairs. galvanised and hand painted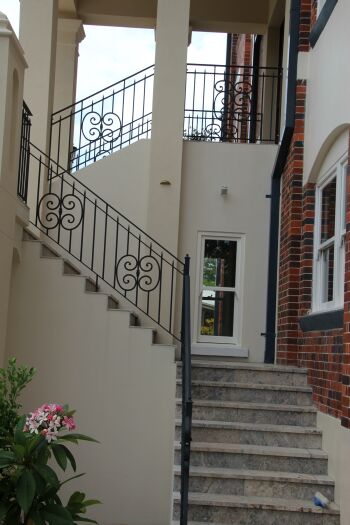 Stair Balustrade
For above house.
Hand forged and Hot punched Handforged post finials.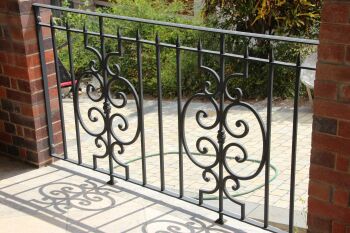 Balustrade
Hot punched with hand forged snub end scrolls points.All iron 16mm square with 50mm profiled handrail.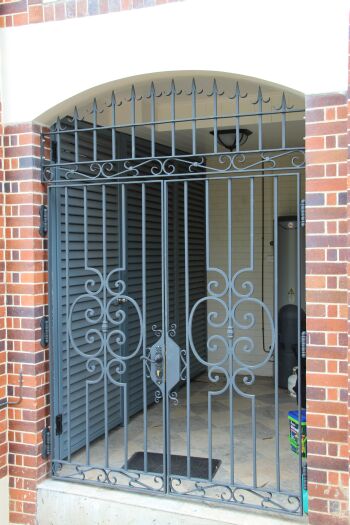 Gates
For above heritage house. Forge welded finials with hot punched rails. Snub end scrolls with custom made lock boxes and bolts.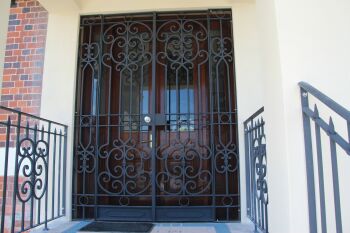 Forged security doors
Handforged elements and hardware,
Fitted with insect mesh.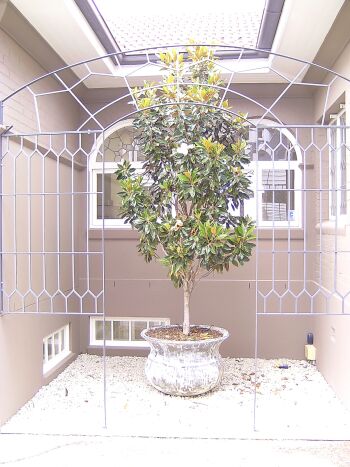 Garden Trellis
trellis designed to copy pattern in lead light windows.
Galvanized and powder coated
Pool deck infill
Organic leaves and vines.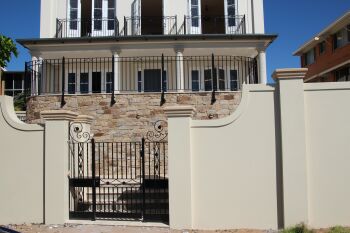 House Ironwork
Gates, Balcony's, french door inserts, window grills.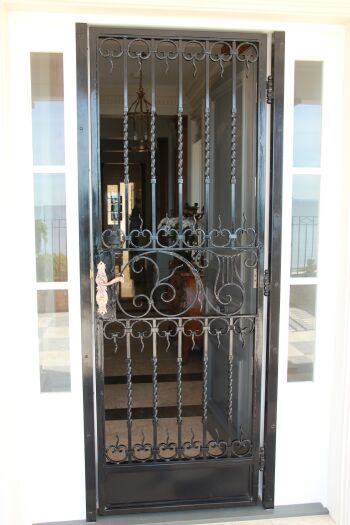 Forged security door
Forged scrolls and twisted bar.Forged collars. Galvanized and powdercoated.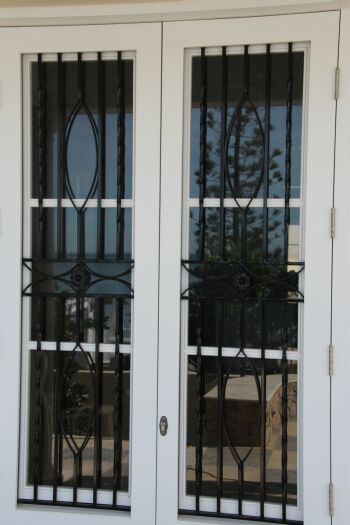 French door insets
Fabricated galvanized and powder coated.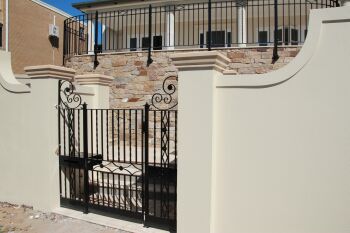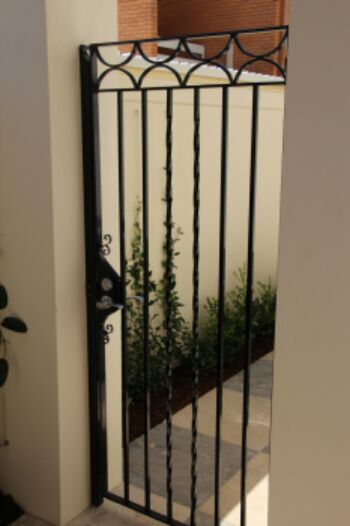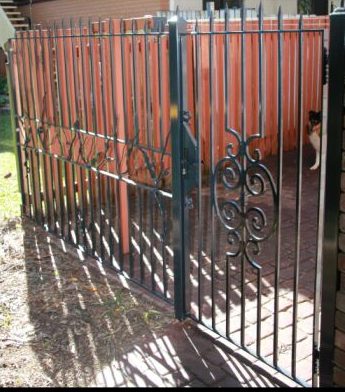 Fence and gate
Hand forged gate with snub end scrolls and forged pickets. Forged organics through through fence. Galvanized and powdercoated.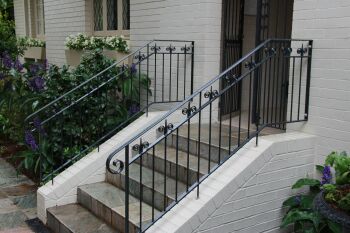 Stair Balustrade
Finials forged to match existing ironwork, with 50mm profiled forged handrail resened into brickwork.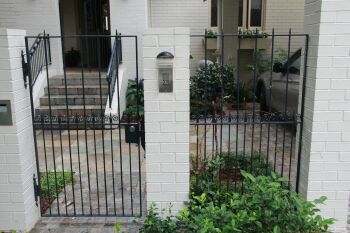 Gate
Gate & Panel to match above handrail.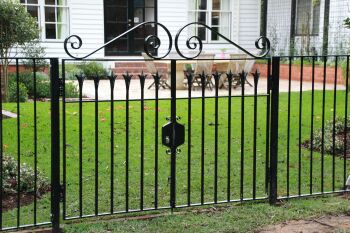 Garden gate
Forged scroll gates with forge welded finials. Galvanised and powdercoated.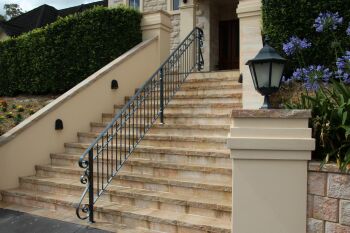 Forged handrail
Handforged to match front ironwork.
Galvanized and powder coated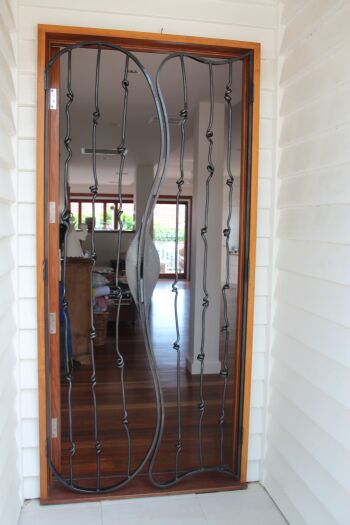 Organic security doors
forged and fabricated with handforged latch.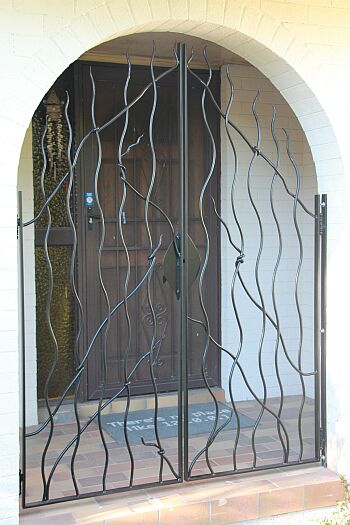 Organic gates & Panels
Hand forged and entwined steel to enclose entrance patio.
Two sets of gates and two fixed panels.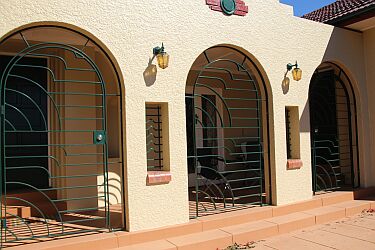 Security arches
Constructed from 32mm x 10mm steel. Galvanized painted and fitted with deadlocks.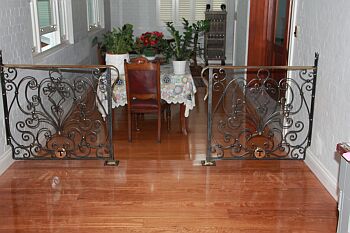 "LURLENE"
This balustrade was named after my late mother, because of its elegance and great beauty.
It has been crafted using only traditional joinary. 20 Forge welds, rivits, mortice and tennon joints, 50 collars. 80 Forge welded snub end scrolls with wax finish, and 12 brass pinned balls and handrail,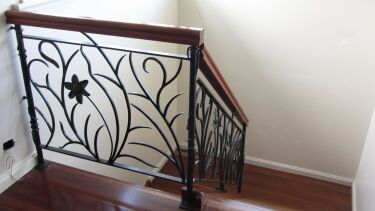 Daisy organic balustrade
Handforged, wax polished.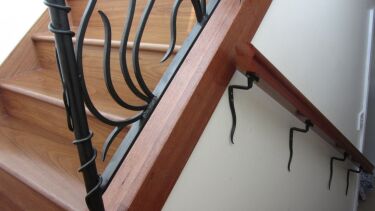 Handrail supports
Organic newel post and handrail supports for above balustrade.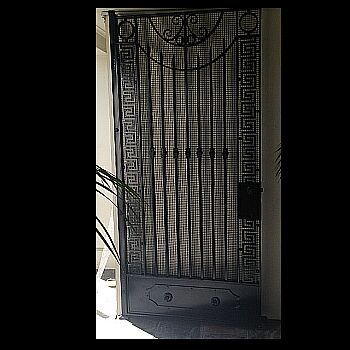 Security Gate
Forged scroll work with greek key down both sides. Backed with stainless steel mesh.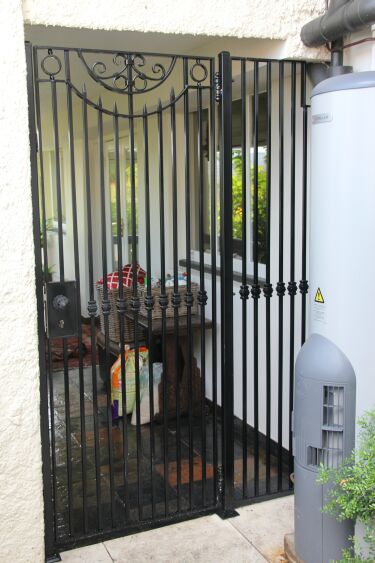 Security Gate
Forged from 32mm steel, with16mm bar with centre ornaments.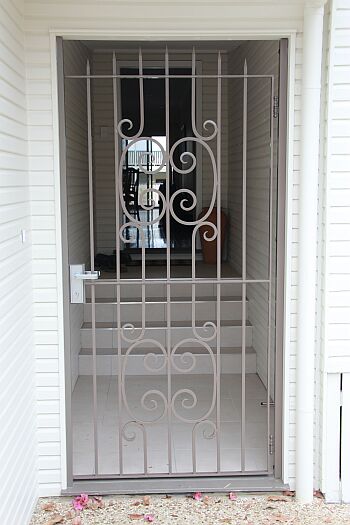 Security gate
forged from 16mm steel.
Scrolls and points.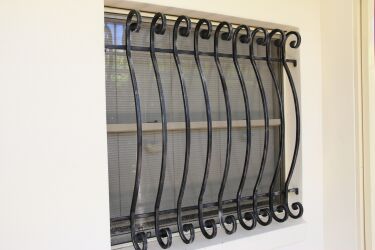 Window grills
Handforged from 16mm square steel. Galvanized, painted and aged.