Gothic Door Bolt and Keeper
Hand-forged using traditional processes Hot punched and riveted. Hand polished.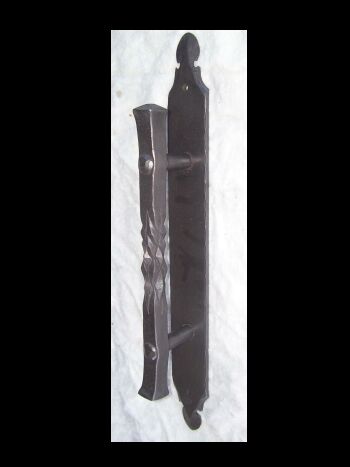 Large Door Handle
Traditionally forged. Pineapple twist and hot punched and chisel cut ends. Hand polished.
400mm x 65mm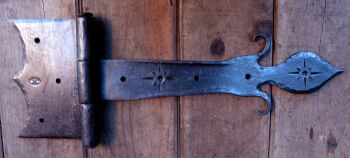 Door hinge
Traditionally forged, chisel cut and decorated
350mm x 150mm
Large Door Bolt and Keeper
Traditionally forged. Chisel cut and riveted Black metal polished.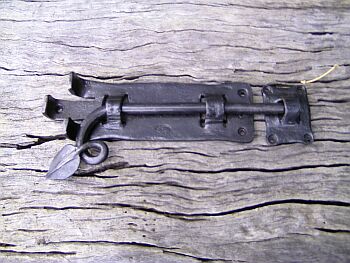 Leaf End Draw Bolt
Ideal for garden gate
Hand forged with raised vein leaf
300mm x 100mm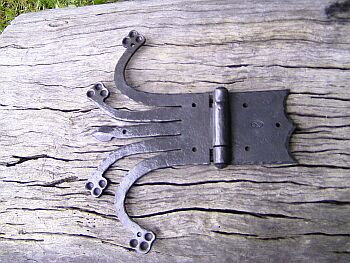 Kahn Hinge
Traditionally forged chisel cut and hot punched
280mm x 300mm
Large Door Hinge
hand forged chisel cut and hot punched
500mm x 150mm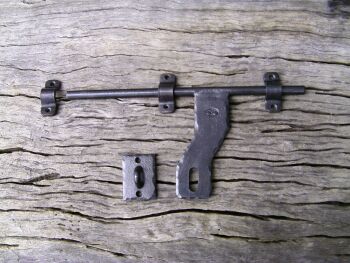 French Door Bolt
Handmade and polished
Can be padlocked
Deadlock Bolt
Internal deadlock bolt for large door.
Utilizes keyed lock.
Can be designed to work on any door.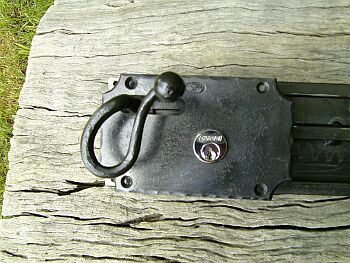 Slide Bolt
Used with keyed dead lock.
Front side of above lock.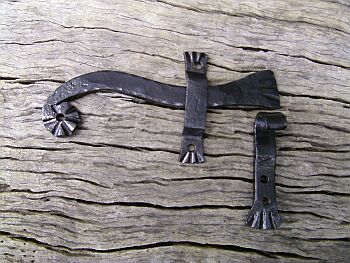 Hardware for Thumb latch
Hardware latch mechanism for
Thumb latch pictured below.
Opposite side of door than handle.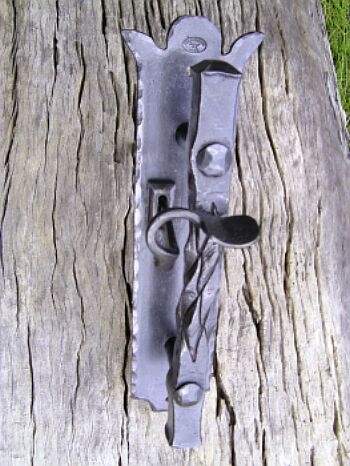 Handle with Thumb Latch
Traditionally forged with Thumb latch.
Pineapple twist hot punched and polished.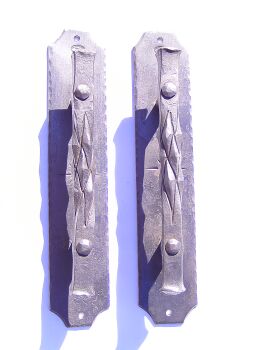 Pair of Traditionally Forged Handles
Hot punched, upset ends with pineapple twist in center.
Hand polished.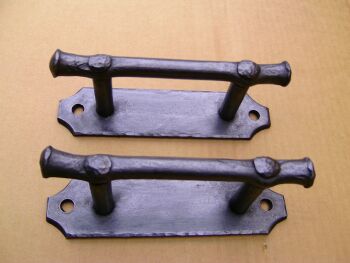 Door Handles
Traditionally made from round stock. Hot punched and upset ends.
Hand polished
Door handle for private residence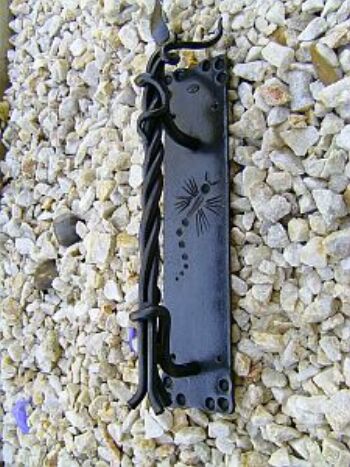 Organic Door Handle
Hot punched and hand forged leaf and tendrils.
Incised dragon fly on back plate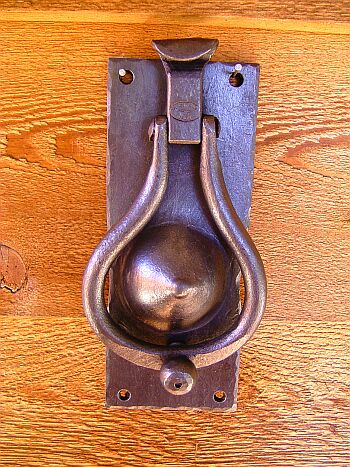 Long hand forged drop bolt for tall security doors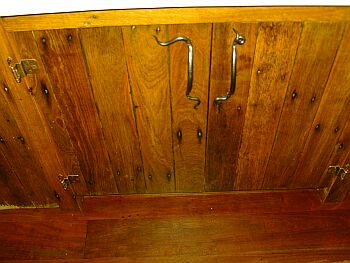 Organic Kitchen door handles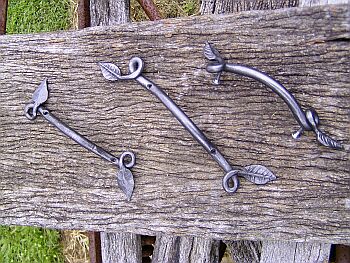 Drawer Pulls
Made to order.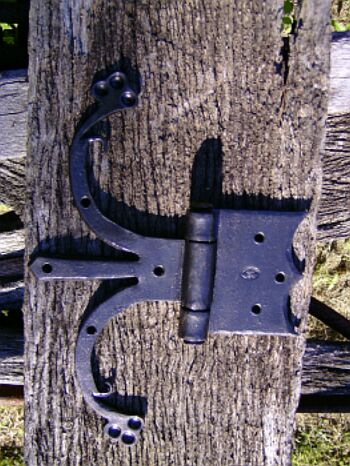 Hand forged Hinge
Chisel cut and polished.
Will make to any design.
Hooks made to order
Forged leaf end hot punched and textured.
Polished finish.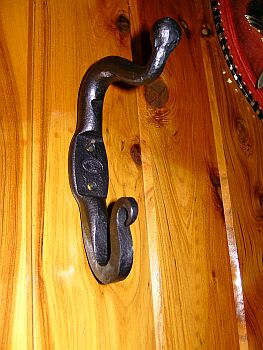 Coat and hat hook
Forged ball end with forged hook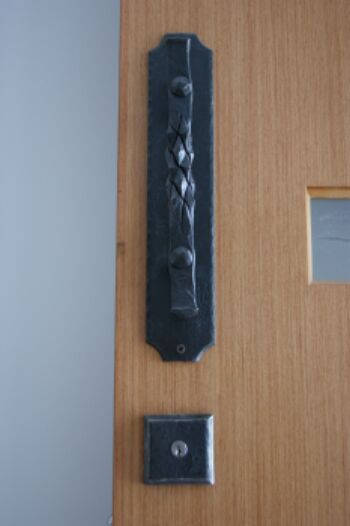 Door Combo
Handle and matching door lock
Custom made.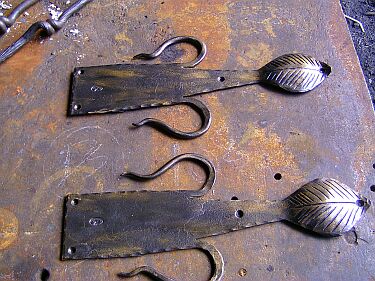 False hinges
Organic style.
Hand polished with gold highlight.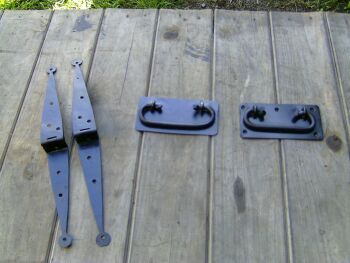 Trunk Hardware
Custom made hinges, handles and decorative elements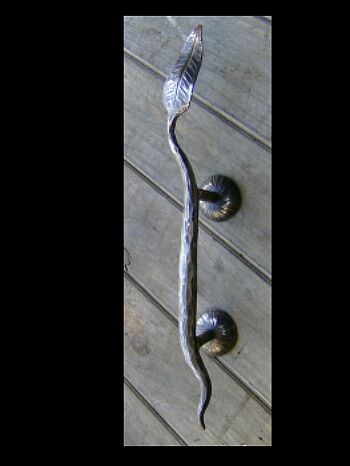 Forged Stainless Steel door hardware
Custom made from Stainless steel Copper brass or black iron.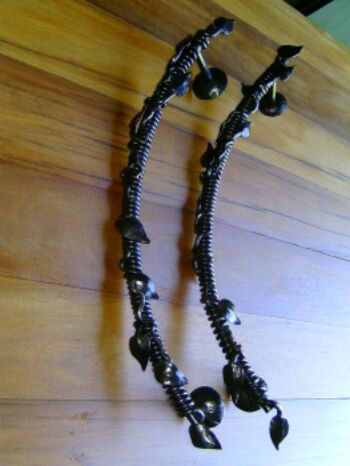 Organic front entrance Handles
Designed for rainforest retreat
Pair if leaf and tendril handles to suit glass infill doors.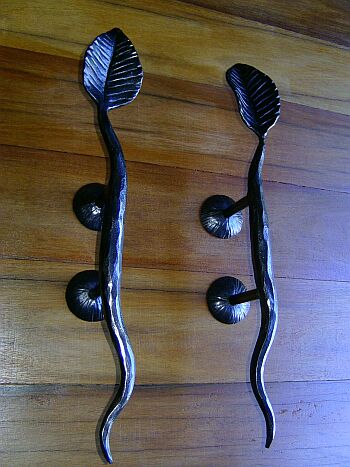 Pair leaf organic handles
Designed for rain forest retreat.
Dragon Handle
Hand forged dragon and leaf handle.
Flower door handle
Forged from iron and copper.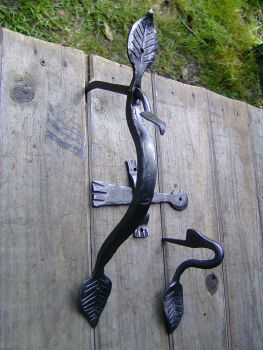 Organic thumb latch
Hand forged handle and lock.
Heavy Drop Bolt
Designed for two heavy gates
hand forged from 20mm steel with upset draw handle. Incised and polished.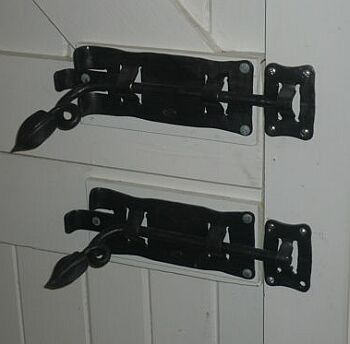 Leaf handle Bolts
Made to order for Stable door.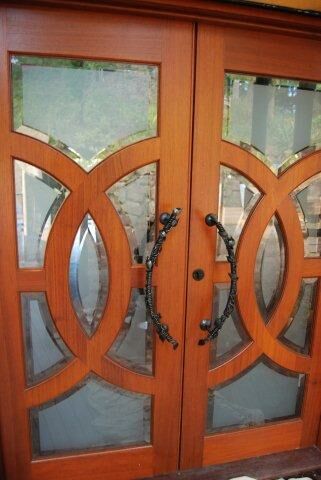 Organic leaf handles
Hand-forged leaves and vines twisted around to form door handles. Designed for rainforest retreat.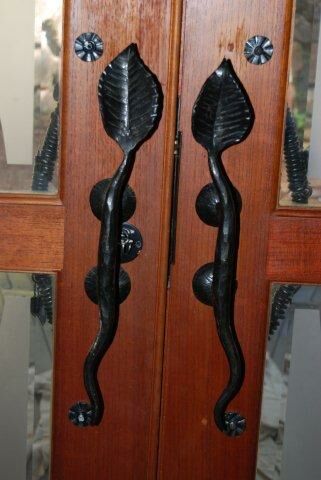 Forged Leaf Handles
Hand forged chisel cut Finish hand polished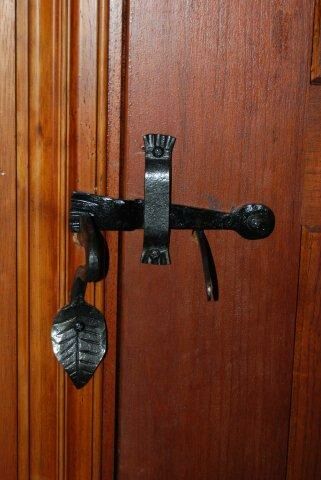 Thumb Latch
Traditionally forged with leaf thumb latch.Used for internal doors.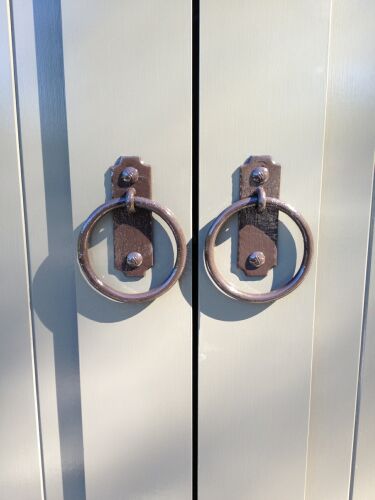 Barn door pulls
Hand forged. Ring 150mm
Large door handle
Forged and textured. Hot punched standoffs. Flowers wrap aroundwith vines.
Made to suit existing glass doors.
Nickel plated handle
Hand forged to suit large glass doosr. 800mm long textured and hot punched. Nickel plated finish.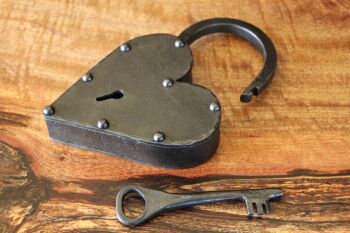 Padlock
Designed for present to put on the lock bridge in Paris.
Love heart shaped with traditional rivets and hand forged key.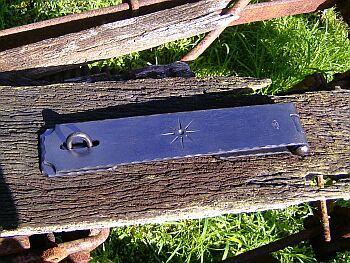 Large latch
Hand polished.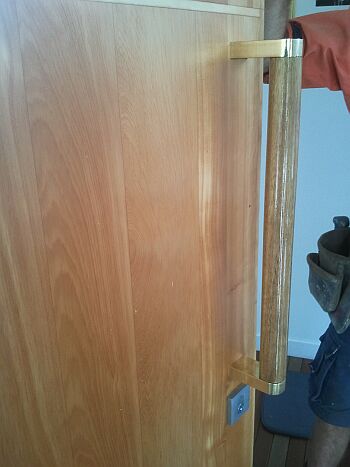 Brass & Timber handle
Polished brass and Australian spotted gum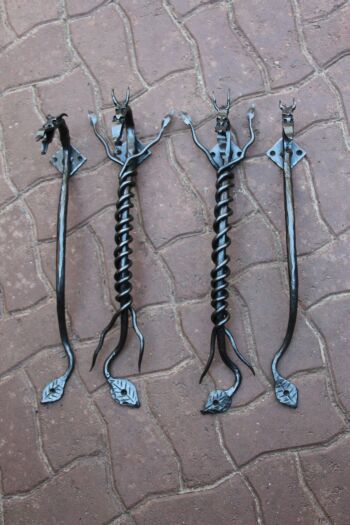 Dragon Door Handles
Hand forged for large wooden doors.